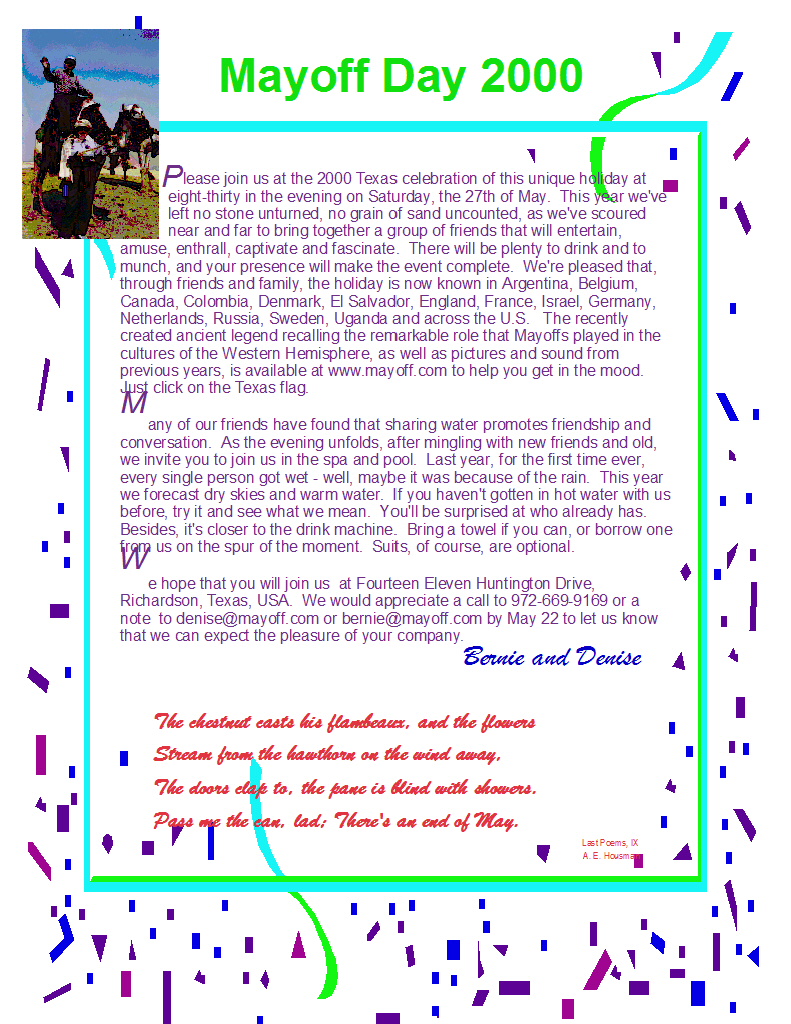 See the lyrics and listen to the singing of the 2000 Mayoff Day song:  We're Mayoffs
---
Fifty-five Mayoffs and friends of Mayoffs gathered near Dallas, Texas to celebrate the first Mayoff Day of the 21st century.  Set in the heart of the Telecom Corridor and featuring an International theme, the celebration was a fitting way to continue this decades-old tradition and lay the groundwork for the new century.  Friends even flew in from Chicago and Zurich for the special evening.
Held at the home of Bernie and Denise Mayoff, the site was festooned with flags from 26 locales representing places where Mayoff Day has established a foothold (well, actually 3 of the flags represent places which only contributed foods but they'll celebrate too when they learn of this exciting holiday that is sweeping the world).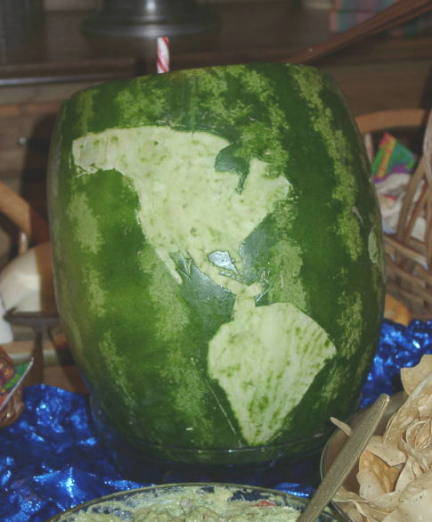 The centerpiece for the evening was the Global Watermelon.
This remarkable melon depicted six of the seven continents
and even pinpointed the location of the north pole – which actually does haves peppermint stripes.
One sharp-eyed observer noticed that the British Isles, or the Irish Isles, or the Scottish Isles seemed to be missing.  Others noticed that the Pacific Ocean had grown and so had the Bering Straits.  Of course these were the effects that global warming had on the Global Watermelon.  A frozen margarita machine was called into action to counter the concerns about global warming and soon all seemed sub-lime.
The evenings repast featured an assortment of goodies from around the world prepared by hosts Bernie and Denise and assisted by friends and family.
Foods included maracuya tarts from South America; Greek olives; Mexican salsas; Middle-Eastern hummus and pita; cheeses from Britain, France, Italy, Netherlands, Spain and Switzerland; American strawberries, shrimp, vegetables and fruit; tequila from Mexico, tea from China; and water from Italy. Not pictured are the dozen Italian focaccia bread pizzas.
For the sweet tooth there were also churtiga from Hungary, Belgian Chocolates, dried pears from Bernie's pear tree, Greek almond wafers, and the traditional Mayoff Day chocolate peanut butter chip cookies.
The pool was warm and the spa hot.  A few guests enjoyed the pleasures of the soothing water and bubbles and many others got near.  The killer whale floating in the pool served to inhibit many of the guests from flinging inhibitions aside and taking the plunge themselves.
The entertainment highlight of the evening was a new song composed by master lyricist Doug Frazier and sung by the entire group.